Post by Delacroix on Jan 16, 2016 21:51:06 GMT
Isabelle DelacroixDefinition:
Emotionally Broken Death Seer
Ambition:
Find Peace
Background:
Funeral Home Owner's Daughter
Conviction:
Only act when you can help
Disadvantage:
Bothered by the Restless Dead
XP:
5
Abilities:Physical:
Agility: 2
Endurance: 2
Perception: 4
Strength: 2
Mental:
Craft: 2 (I: Creative Sterility)
Knowledge: 3
Reasoning: 3 (I: Doesn't Get People)
Willpower: 0 (S: I've Already Come This Far, So...)
Social:
Deception: 3
Empathy: 0 (Dead Inside (P))
Persuasion: 1 (S: Creepy but Cute)
Resources: 2
Psychic:

Manipulation: 0
Metabolic: 0
Sensitive: 3 (S: Occular Psychic)
Stress
Physical:
4
Mental:
3
Social:
2
Refresh
1
Expert
Lethal Precision - Substitute Perception for Strength when making a melee attack
Takes One to Know One - Substitute Deception for Empathy when trying to catch a lie
Detached Analysis - Substitute Reasoning for Willpower when someone is attempting to use use emotion or base arguements against her (ie Intimidation, Seduction, Appeals to Greed, Ect.)
Exceptional Vision - +1 to vision-based perception rolls, with the exception of rolls to directly attack or defend.
Heroic
-None-
Powers
Death Seer
Aspect: Tormented Death Seer
- Death's Spring
Life Force Sight
Aspect: Piercing Blue Eyes
- Easy Focus
- Extended Vision
- Vision of Flows
Self-Hallucination
Aspect: Seeing What I Want To
- Practiced Visualization
Emotion Switch
- Dead Inside
Items
'Bloody' Butcher's Knife (WR 2, 'Faux-Bloody', Not a Real Weapon) <Creepy, But Cute>
Black Thick Knit Sweater Dress (+1 AR, Blunt Force and Cold Only) <Emotionally Broken Death Seer>
Luck Talisman (+2) <Ocular Psychic>
Android Phone <Funeral Home Owner's Daughter>
First Aid Kit <Only Act When You Can Help>
Facility
[Delacroix Funeral Home]: A funeral home near one of the more violent parts of town. While emotionally injured and reluctant to even try, the almost church-like atmosphere, at least when not actively grieving, can help remind ghosts that there is a place beyond this one... or at least that Isabelle is just about the only one who can truly help them. Death Seers gets +2 to Mental and Social interactions with ghosts while here.
Notes about the area: Due to the presence of Isabelle and the fact that its a 'logical' place to find other ghosts, it has become a popular haunt (haha) for local ghosts, much to Isabelle's chargin (she... usually tries to ignore them... and gets upset)
History:
Isabelle was born to Johnathan and Erin Crawford, 3rd generation owners of a funeral home. The family lacked a history of psychic powers, so the fact that Isabelle had them took the others complete by surprised. Unfortunately, her familiy tended to be neglegent. While not outright abusive, they paid relatively little attention to their girl; furthermore, busy as they were, Isabelle had to spend a lot of time growing up attending the funeral reception of their clients.
Being surrounded by those grieving for lost loved ones would have been bad enough for a young girl's psyche, but it was worse than that. The funeral home catering to a part of town known to be plagued by crime, many of the dead had died violently. That created a lot of ghosts.
It was not a good situation to be in for a young death seer. She saw it a million times. Forced to attend the reception, the ghost walked in. Often they announced their presence, expecting friends and family to be elated at their return... and then were hardly noticed. Often times, it slowly dawned on the ghost that they couldn't been seen or heard... and they they often noticed the one person who their presence seemed to register to: Isabelle.
They'd plead, they'd threaten in vain, they'd sometimes even try to bribe her with some of their final possessions. Some of the ones that acted a bit more distant and muddled still recognized the horror, and the combination of ghostly confusion and personal horror begged her act to help them as well. One of two things happened every time. She announced their presence and everyone just believed her to have an overactive imagination, and got to see a ghost emotionally crushed. Alternatively, she stayed silent or told it that she wouldn't be believed, because she knew the result of the later. Once again, sometimes the ghost was crushed, sometimes she'd be pled with more or cursed out.
To be fair, this was hell on the young girl's emotion. By the time she was 13, it was nearly impossible to get any emotional response from her, except in the most extreme circumstances. When she was 16, she was finally found by another community death seer, who noticed her light. Found she was untrained, the community managed to give her some basic training with her powers, and also discovered she had a rare talent aside from that: natural Life Force Sight, and at an exceptionally young age at that. Some thought that her Death Seer powers, being primarily vision based, allowed this, but it was unknown otherwise.
Eventually, she graduated from high school, and her parents took up an offer for a scholarship at a specific community college...
Personality:
Hollow. Isabelle speaks in a dull monotone, and doesn't tend to speak particularly loudly. That's when she speaks at all. It's almost impossible to get any sort of emotional reaction from her, and she'll often just stare with a blank, hollow gaze. She'll tend to go along with what others around her are doing by default, simply because she doesn't care. She has a reasonable sense of morals, and avoids doing bad to a reasonable extent, but this is more what socialization she's retained than a strong sense of conviction. She tends not to react.
When you do get an emotional reaction from her, it's likely to be subdued.
She has a few remnants of her old self remaining: a touch of curiosity, some shyness, the sort of stuff you'd think she'd have been the bookish type if she'd had a more normal life, but it tends to be subdued.
Appearance: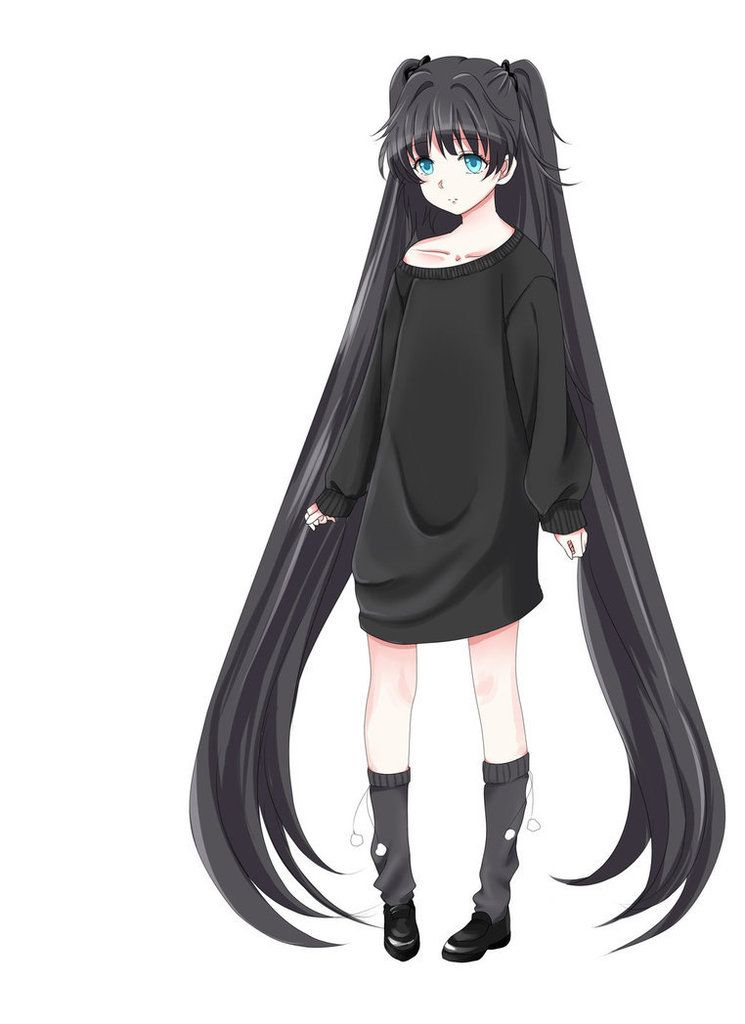 Isabelle's hairstyle is complex. Most of her is a soft black that extends to her waist, except her pigtails which extend almost to the floor, which are bound into shape by simple black hair clips. Her hair itself, however, is stringy and unkempt. The bangs on the front of her hair give a slight shadow over her eyes, which are an unnaturally brilliant blue. Her gaze tends to be blank and emotionless. Her facial feature, however, are cute. Her skin tone is albino white.
She wears a thick, knit, warm-looking, one-shoulder black sweater dress, with the area near the neckline and end of the sleeves having a 'folded back' look, despite going normal length. It extends down to her knees. The whole thing is meant to give the appearence of an oversized sweater that has been folded back enough for her to wear.
She wears black knit sweater legwarmers with fluffy white balls danglying from the top over black venetian-style loafers.
She is slightly shorter than average, and has small B-cup breasts.